In 1977 Oregon-Canadian Forest Products started with a wooden green chain, one fork lift, and a loading dock. Since then we have grown into a global company with over a dozen specialized machine centers located in North Plains, Oregon and our South Carolina facility, Industrial Pine Products Inc.
Our headquarters is located in North Plains, Oregon. We have a versatile manufacturing operation on 26 acres and employ over 120 people. We produce on average 2 million board feet of high end softwood products every month. We have the personnel, the experience and the raw material to meet your specialty needs for Douglas Fir, Hemlock and Western Red Cedar lumber.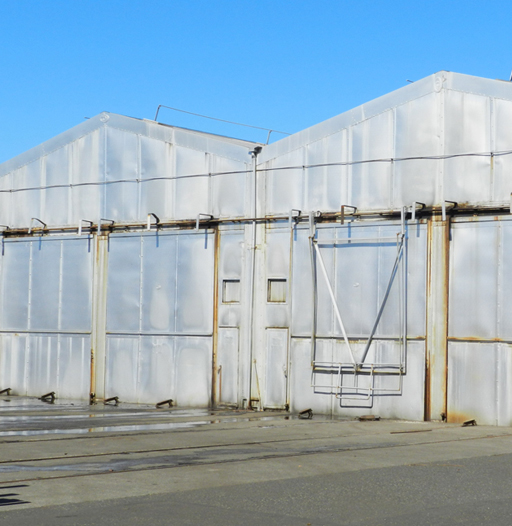 Oregon-Canadian operates 5 natural gas fired Dry Kilns with capacity of approximately 500,000 BF per charge. Our SCS monitoring system allows us to customize schedules to accommodate the many thicknesses that we dry. We have schedules ranging from 4 days to dry 1" to 30 days to dry 4" and thicker.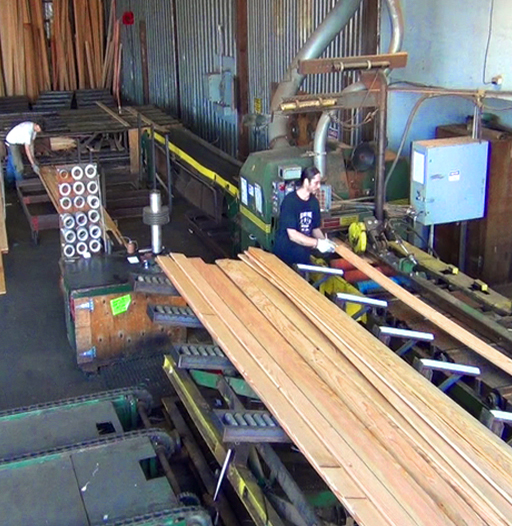 Oregon-Canadian's Mereen-Johnson 400 series Rip Saw provides us with maximum efficiency of high precision straight line ripping. Our Rip Saw has capabilities to handle up to 24″ wide product and up to 2″ thick. We have an adjustable line bar to allow for on-the-fly adjusting and grading options. With 8 pull carts we prevent the need for additional sort chains following the use of our Rip Saw.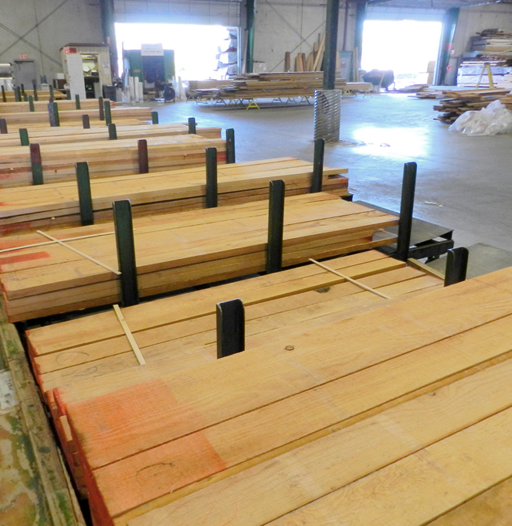 We are one of the few companies that regrades all industrial clears after drying. This ensures that we don't pass along defects that can result from the drying process.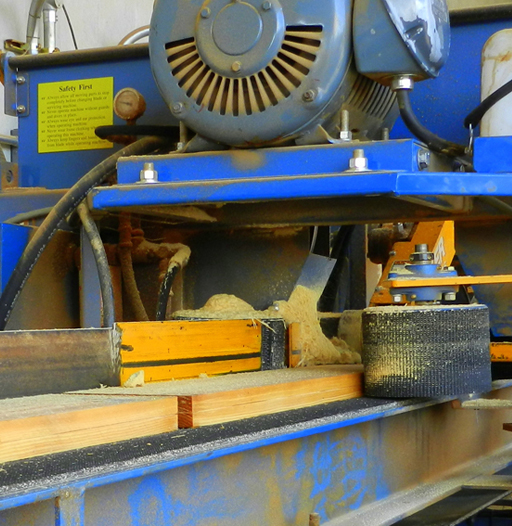 The Baker resaw has a dual-headed horizontal band saw. It can handle material up to 12″ x 12″ making multiple cuts with a single pass. The Baker operates from 25-85 feet per minute allowing for critical accuracy and unmatched quality. Because this resaw can make two cuts at once it can compete with much larger resaws running at 50-170 feet per minute. Baker resaws have a 1/16th" kerf, nearly half the size of larger resaws.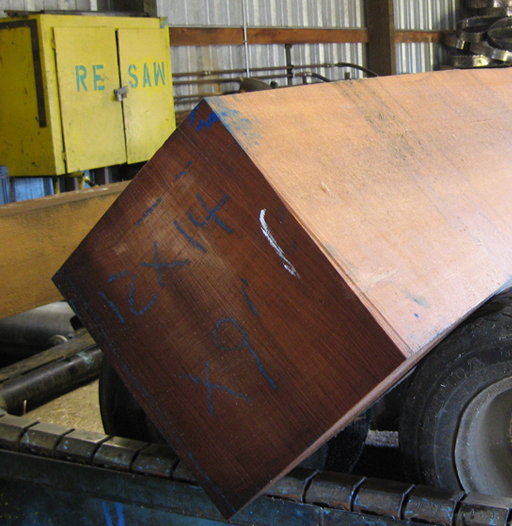 Our McDonough resaw breaks down a variety of inbound products from large cants to smaller and more manageable material. Most of our wide vertical grain and 1″ mixed grain products originate here. In addition, we have the ability to produce custom sizes and grades of rough lumber for special inquiries.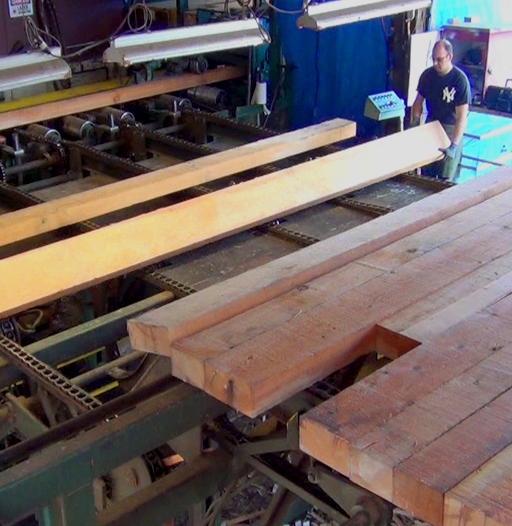 Oregon-Canadian has always strived to increase efficiency as long as quality and safety are not compromised. With our Shurman Edger we benefit in all three categories. Utilizing 12 moveable saws, our Shurman edger enables us to cut flitches up to 6 inches thick into a variety of sizes in one pass. We use this machine to produce 4″, 5″, and 6″ vertical grain as well as the majority of our export products.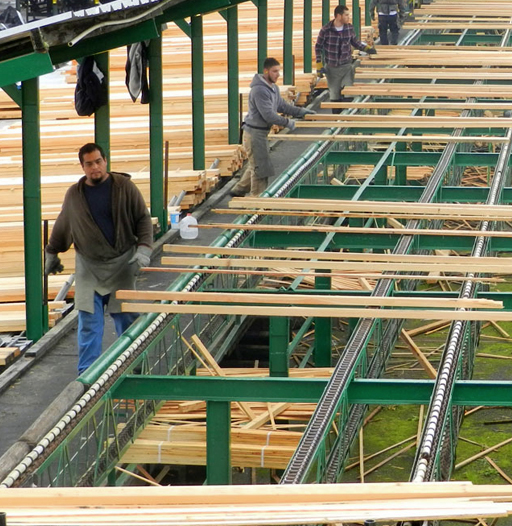 Of all the wood Oregon-Canadian receives on a daily basis nearly half of it's makes it way to the Green Chain. It is over 180 feet long allowing for 36 separate pulls; we sort 2″ and thinner material to grade, length, and width for further processing. The Green Chain is equipped with double end trim saws, and a ripsaw to upgrade the lumber and limit the amount of downfall carried throughout the mill.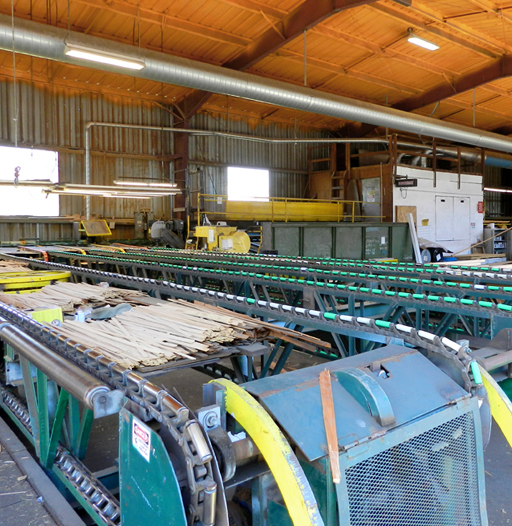 We operate Weinig and Wadkins moulders as well as a Stetson Ross planer, giving us surfacing capacity from 1/2″x2″ to 6″x14″ and the ability to handle lengths up to 40′. Our experienced planer men and in-house grinding room allow us to manufacture knifes of nearly any pattern.
Address
P.O. Box 279
31950 NW Commercial St.
North Plains, OR 97133
Call Us
(800) 972-2746
(503) 647-5011